Dharma Teachers of Abhayagiri Monastery

Teachers are listed alphabetically by first name, with monks and nuns given priority. You may also enter any part of a name in the text box and click "Find Teacher by Name."

Ajahn Amaro


I think of myself primarily as a monk who occasionally teaches, who strives to convey the spirit and the letter of Buddhism through my lifestyle, through explanation, and through the imagery of storytelling in order to bring Buddhism to life for people who are seeking truth and freedom.

Ajahn Pasanno


Ajahn Pasanno took ordination in Thailand in 1974 with Venerable Phra Khru Nanasirivatana as preceptor. During his first year as a monk he was taken by his teacher to meet Ajahn Chah, with whom he asked to be allowed to stay and train. One of the early residents of Wat Pah Nanachat, Ajahn Pasanno became its abbot in his ninth year. During his incumbency Wat Pah Nanachat developed considerably, both in physical size and in reputation. Ajahn Pasanno became a well-known and highly respected monk and Dhamma teacher in Thailand.

Ajahn Sucitto


As a monk, I bring a strong commitment, along with the renunciate flavor, to the classic Buddhist teachings. I play with ideas, with humor and a current way of expressing the teachings, but I don't dilute them.

Ajahn Sumedho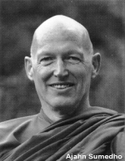 Ajahn Sumedho is a prominent figure in the Thai Forest Tradition. His teachings are very direct, practical, simple, and down to earth. In his talks and sermons he stresses the quality of immediate intuitive awareness and the integration of this kind of awareness into daily life. Like most teachers in the Forest Tradition, Ajahn Sumedho tends to avoid intellectual abstractions of the Buddhist teachings and focuses almost exclusively on their practical applications, that is, developing wisdom and compassion in daily life. His most consistent advice can be paraphrased as to see things the way that they actually are rather than the way that we want or don't want them to be ("Right now, it's like this..."). He is known for his engaging and witty communication style, in which he challenges his listeners to practice and see for themselves. Students have noted that he engages his hearers with an infectious sense of humor, suffused with much loving kindness, often weaving amusing anecdotes from his experiences as a monk into his talks on meditation practice and how to experience life ("Everything belongs").
James Baraz


I try to convey that the wisdom and compassion we are looking for is already inside of us. I see practice as learning how to purify our mind and heart so we can hear the Buddha inside. In doing so, we naturally embody the dharma and help awaken that understanding and love in others we meet.

Joseph Kappel


From 1971-1991 Joseph Kappel lived as a Buddhist monk as Pabhakaro Bhikkhu, with Ajahn Chah and Ajahn Sumedho in Thailand and Great Britain. His initial interest in Buddhism was inspired by visits to Thailand from Vietnam where he was a Captain serving as a combat helicopter pilot in 1969-70. Since leaving monastic life in 1991, Joseph has taught MBSR (Mindfulness Based Stress Reduction) in Massachusetts's prisons, received the degree of Master of Education from Harvard University, and worked with college athletes to facilitate "mental fitness" and the inner game. He currently teaches meditation retreats in various settings in the US. Additionally, he co-leads retreats with Ajahn Amaro at Amaravati Buddhist Monastery in England. Joseph's commitment is to encourage everyone to awaken in daily life by using life's journey to cultivate deep understanding, virtuous conduct, along with wise effort & reflection.